These pictures are going to be crap quality because I took them at night, with my iphone...but crappy pictures are better than no pictures right?
Let's start with IKEA. IKEA is evil. it's like Target but more expensive and you need a truck. Liss and I headed down to IKEA last weekend so she could buy her bookcase that she's turning into a window seat in BP room and I went to get the TROFAST and turn it into something like this:
http://ericandlydiasfamily.blogspot.com/2010/05/lego-my-messy-legos.html
Bye bye big bulky train table, hello sleek awesome lego table.
I also wanted to get some new shoe storage. I was over the bench that we had in there since we moved in. It always just collected crap, and I was sick of shoes everywhere. Because I'm so original, I went right over to YHL to look up the
shoe storage
they had done in their laundry room. IKEA being so smart decided to discontinue Retur and re-market it as shoe storage and sell in a three pack. Very tricky IKEA. They are now called
TRONES
.
I had a list. A very strict list of what I needed at IKEA. We walked in and decided to look around even though we both knew what we needed. Bad idea. Very bad. The first or second living room we walked into I exclaimed "this is where I want to live!" it was so cozy and warm and inviting and had a cute little corner with a desk very similar to the one I had purchased there before and turned into a chalk table. It also had a roll of paper hanging near it. I was inspired. To be honest, I had seen something similar when
MODG
revealed
G's big boy room
and loved it.
I also found frames for $1.99, and since pictures of my kids in frames is pretty much a Christmas gift staple, I picked up a bunch of those. Oh, and a tiny stuffed moose. But I digress. Here are the pictures!!
So I had to do some maneuvering to bring the kids table into the living room, but I have to say I love it. For some reason when the couch is up against both walls, it just seems so much more cozy and open. Here it is with our new "snow" pillows as Jackson lovingly calls them.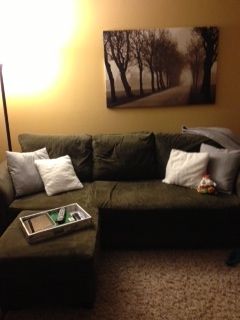 So to the right of the couch is the new kids corner:
Please excuse the super safe exposed electrical outlet. I have a cover for it..somewhere..
Here is the new entryway/shoe storage (or shoe dispenser as Michael calls it)